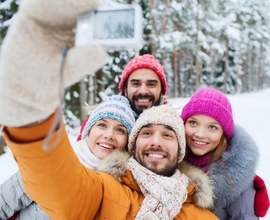 The holiday season is fast approaching and if it's anything like ours, you can count on sharing many smiles and photographs with your loved ones.
Here at Louisiana Dental Center, we want your smile to shine! Regardless of the possibility of frosty precipitation or Irving Berlin's wishful thinking, we want everyone to enjoy a white Christmas, so we're giving away free teeth whitening (a gift with a $300 value)!
Your smile is one of your most valuable possessions because a bright white smile is often perceived as being a healthy smile. And even if you're diligent in maintaining good oral hygiene practices, your teeth can slowly become discolored or yellowed over time, due to everyday life and aging. Of course, tooth discoloration can also occur due to the consumption of tooth-staining foods and drinks. Plus, there are some antibiotics that can cause tooth discoloration, as well.
But for new patients who visit our office this holiday season, you will receive free teeth whitening when you pay for your initial comprehensive exam, necessary X-rays, and a prophy cleaning. These paid services may be covered by your insurance, and with the end of the year fast approaching, we want to make sure you're getting the most out of your insurance coverage by using your health benefit before 2019 arrives. (Many types of benefits are "use it or lose it" resources, so we don't want you to miss out on valuable coverage!)
So, with this gift from Louisiana Dental Center, you will receive a free custom-tray teeth whitening kit. Professional teeth whitening procedures are not appropriate for everyone, so that's why a doctor's exam and diagnostic X-rays are often necessary to determine whether teeth whitening is right for you. Our full-mouth X-rays, prophy cleaning and comprehensive exam are $185, which is a minimum fee that could increase depending on the treatment that's required.
This holiday gift offer expires on January 31, 2019. It is not valid with other discounts or offers, and it is not redeemable for cash.
Louisiana Dental Center is a family dentistry and specialty practice. We want you to know that it is our honor and pleasure to serve you and your family. Call (504) 833-6825 to schedule your appointment today! We'll look forward to hearing from you.